We are pleased to bring you a Q&A with Chandra Melting Tallow. Chandra is an artist in residence with the Canadian Accessible Musical Instruments Network. In their conversation with us, they share their experiences with with the music community, their own musical journey, as well as current and future aspirations.  
Question:  How would you describe your musical journey?
Chandra: "I've found it to be challenging with multiple barriers, as well as exciting and rewarding. I started making music before there was a big push to support women, gender non conforming, and marginalized artists, when white men were at the forefront and this wasn't critiqued as much. I've also struggled with economic stability as someone with a physical disability unable to enter the workforce, which impacted my ability to work on music. I didn't really anticipate longevity or a career and even questioned my ability to survive my circumstances, so the fact that I've been able to work as both a musician and an artist has come as a welcome surprise. "
Q: What has your experience with music and accessibility been like?
C: "Pretty much non-existent. It's very difficult to play shows with a physical disability, and as a result I haven't really been able to tour, or release music at the pace I would like."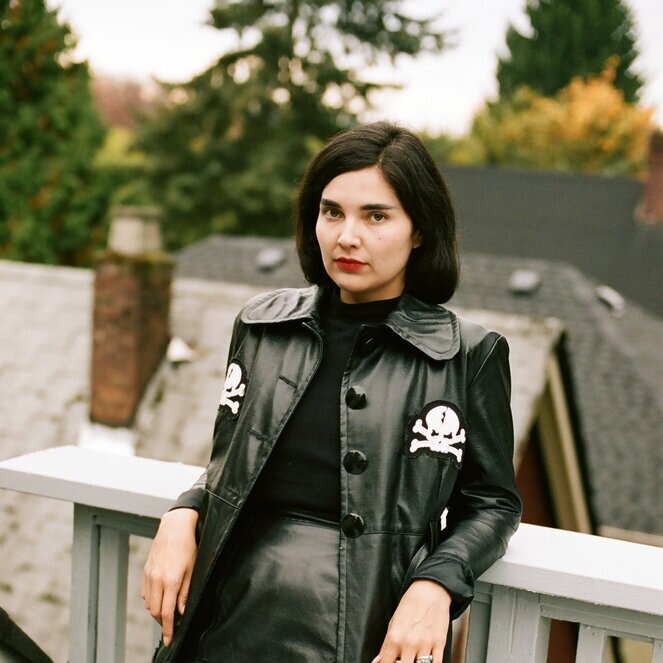 [Image Description: An image of Chandra Melting Tallow standing outside leaning up against a white fence. Chandra is looking at the camera and is leaned towards the left of the image. Chandra is wearing a black trench coat with white skulls on either side. The background is a blurred image of the roof of a house. ]
Q: How would you describe your experience with the  music community? 
C: "I've had a lot of positive experiences in the DIY music community and although I don't make punk music, that's where I felt the most support early in performing. My first and only tour I played mostly punk shows. "
Q: What are you currently working on with CAMIN?
C: "I'm currently recording a piece of new music that is from the perspective of both my great grandmother and great grandfather and their relationship."
Q: What would you like the future of your music journey to look like and are you releasing any projects in the near future?
C: "I'll be continuing to release music and incorporate music in my artistic practice. I've also started doing scores for film which I enjoy and look forward to doing more. I just generally endlessly experiment with the form. I'll be releasing a new album in 2023."
Chandra Melting Tallow is an interdisciplinary artist, filmmaker, and music producer of mixed ancestry from the Siksika Nation. Their practice confronts the ghosts of intergenerational trauma and their relationship to the body through the lens of physical disability, utilizing humour and surrealism to subvert oppressive structures of power. They spearhead the solo music project Mourning Coup, and in 2015 they released their debut LP Baby Blue under No Sun Recordings, a cult classic in the Indigenous lexicon of underground music. Their practice encompasses experimental film, textile based installation, and performance, and has been exhibited across North America.