We are pleased to bring you a Q&A with our first Artist Spotlight, Dyllan Mills-Harten. Dyllan is a composer in his mid-20s who has fought for his right to make music and continues that fight with academia and social media in creative solidarity with other disabled composers.  In his conversation with us, he shares his experiences with music and accessibility, as well as discusses his work and upcoming projects. 
Question: Why is music important to you and how would you describe your musical journey?
Dyllan: "My musical journey has been very eye opening, especially in discovering my own capabilities with all the music that the world has to offer. Given my condition, which is about having a lack of control over my body, I have felt comfort in the ability to make music and manipulate sounds on a very granular level. I love how I can change the emotion and mental pitch of anyone, myself included, at the drop of a hat."
Q: What has your experience with music and accessibility been like?
D: "Music itself has not had many challenges given that everything is very straightforward on the software side. In my experience, the academic portion of music has had many barriers. This mainly includes the fact that any core music education has a performative addition. Given that my condition prevents me from playing the applied instruments, I was immediately barred from entry to music in an academic environment."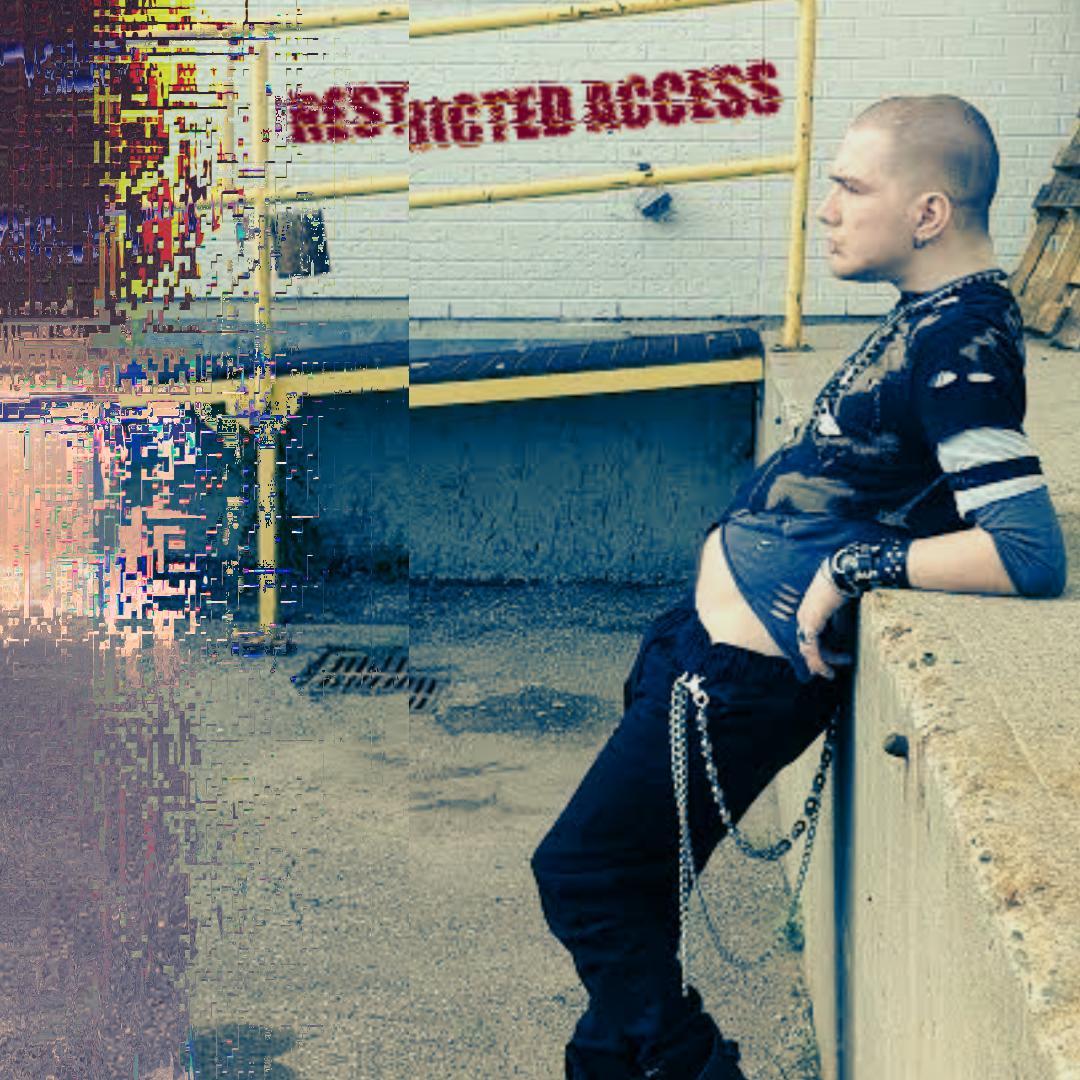 [Image Description: A picture of the side profile of a person leaning on a concrete ledge. They are looking to the left side of the image and have a serious expression. They are dressed in dark clothing and the image is cut off at their ankles. In the background of the image the words "Restricted Access" are painted in red block letters on a white brick wall. In front of the white brick wall there are yellow rails. The left side of the image is pixelated and right side of the image is clear. There is a distinct cut off line that separates the two different sections.]
Q: How would you describe your experience with the  music community? 
D: "I found that there is a barrier between disabled musicians and the rest of the music community. Often, we are assumed to not provide "quality work" because of our limitations, but at the same time, we are told everything we write is amazing and wonderful. We aren't given the privilege of hearing any feedback. So it feels like an image has been created that says disabled musicians should be kept to the ground because it is not like they are going anywhere anyways. It is like the world is giving us a metaphorical pat on the head. We want to get better and we want to improve at our craft, but we cannot gain this without our disabilities crowding the judgement of others. It is not very fair, as it prevents us from growing."
Q: What are you currently working on with CAMIN?
D: "With the team, we are looking to develop a sensible musical hardware for professional musicians with disabilities. Through my own research, I found that many of the available tools out there right now are for children and musical education. Which is great, but there were not many tools for adults who want to pursue a degree of professionalism in their desired art."
Q: Are you releasing any projects in the near future?
D: "I have a completed soundtrack called Restricted Access. This will be coming out in October and it is a concept ep that describes a character being rejected from subcultures that anyone would assume would accept them with open arms. It goes into the characters mindset and shows how they are feeling. It shows the reconciliation of the conflict in their mind."
Dyllan Mills-Harten is a composer in his mid-20s who has fought for his right to make music and continues that fight with academia and social media in creative solidarity with other disabled composers. His primary method of shedding light on these issues is mixing the styles of everything from ABBA to Beethoven to Cannibal Corpse. Dyllan hopes that music creation will grow to be more of a level playing field not just for the disabled for anyone with a creative inspiration. "At the end of the game, the king, queen, and pawn go back in the same box."